Regular price
Sale price
$79.00 USD
Unit price
per
Sale
Sold out
Transformers 65W GaN Fast Wall Charger, your one-stop solution for efficient and versatile charging. This product combines powerful GaN technology with a fun, transformable design, ideal for charging multiple devices at once.
Three-Port Design (2 USB-C ports and 1 USB-A port)

GaN Technology

Transforming Design

Mechanical build for foldable legs

Compatible with Many Devices including Apple iPhone, iPad, Samsung, Nintendo Switch, and many more.
REDEFINING YOUR CHARGING EXPERIENCE
Charge your devices with the stylish Transformers, a mecha robot-inspired charger that doubles as a statement piece. Its shape-shifting feature and ice-blue front lights bring a futuristic touch to your workspace, delivering a unique, fast, and efficient charging experience. Loved by our users for its 'cool' design, Transformers is not just a charger, it's your desk's new 'little buddy.'

THE POWER OF 65W CHARGING, HARNESSED BY GAN TECHNOLOGY
Experience swift, efficient charging with Transformers quick wall charger. It utilizes GaN technology, delivering a powerful 65W output with less heat. 30% smaller and lighter, 5 times faster. This charger swiftly powers up your multiple devices, such as iPhone, Android, laptops, earbuds, or Nintendo Switch thanks to its superior power supply efficiency. Transformers is your solution for speedy, effective charging. *Tested Device: iPhone 14: In 30 minutes - Charges to over 50%; In 1 hour - Fully charged.

SIMULTANEOUS CHARGING FOR TRIPLE DEVICES
Don't juggle between devices - charge them all at once. Streamline your charging with Transformers. Equipped with three ports (2 USB-C and 1 USB-A), it supports simultaneous charging for multiple devices. Compatible with over 1000 devices, it enables fast charging for your iPhone, Android, iPad, laptops, earbuds, and Nintendo Switch, simplifying your charging process and saving you precious time.

A COMMITMENT TO SAFETY AND DURABILITY
Transformers prioritizes safety with its 8 real-time protections, including measures against overvoltage, overcurrent, and short circuits. The flame-retardant shell enhances safety during charging. These features ensure device protection and durability, promising reliable, safe charging over time.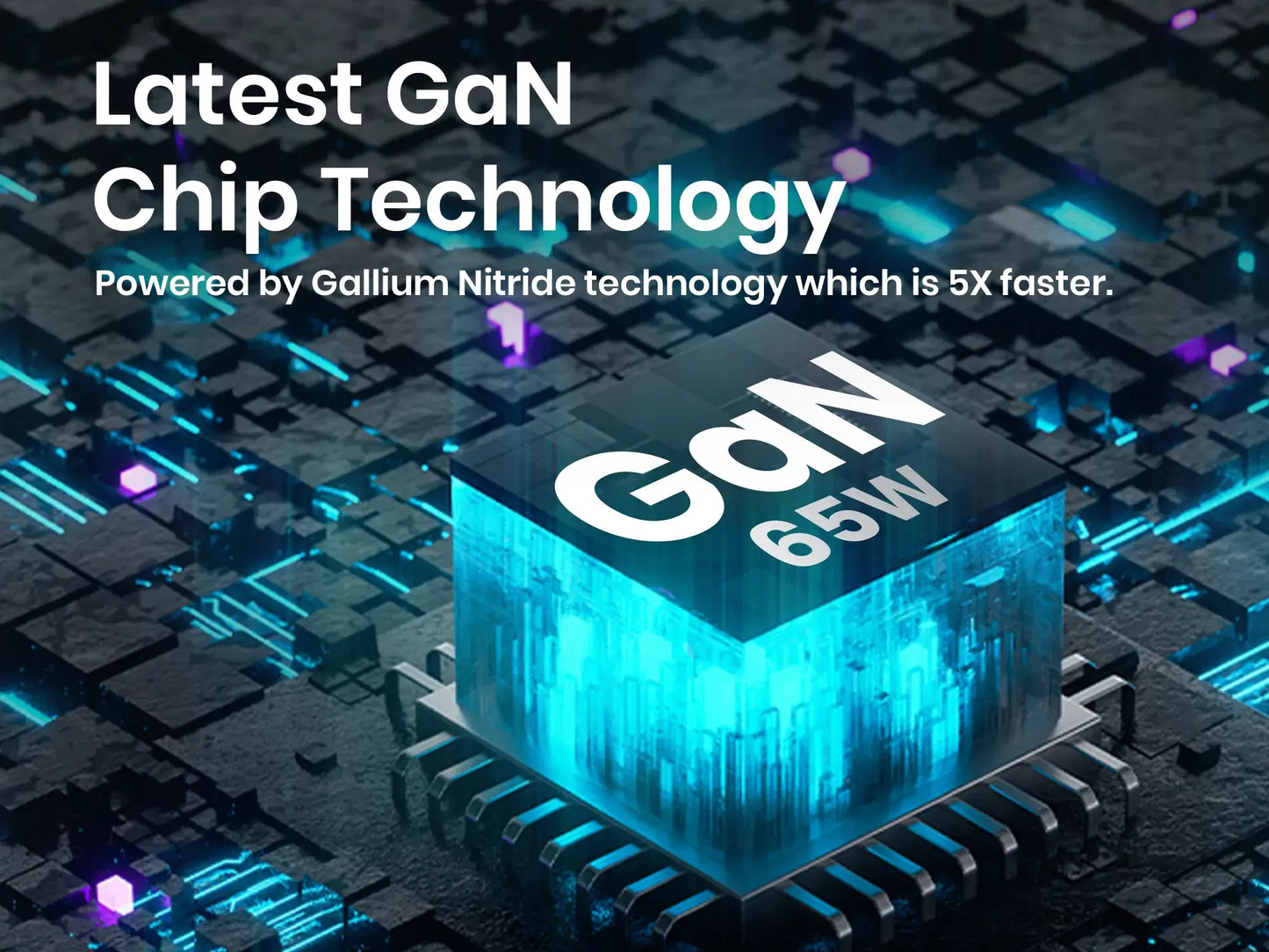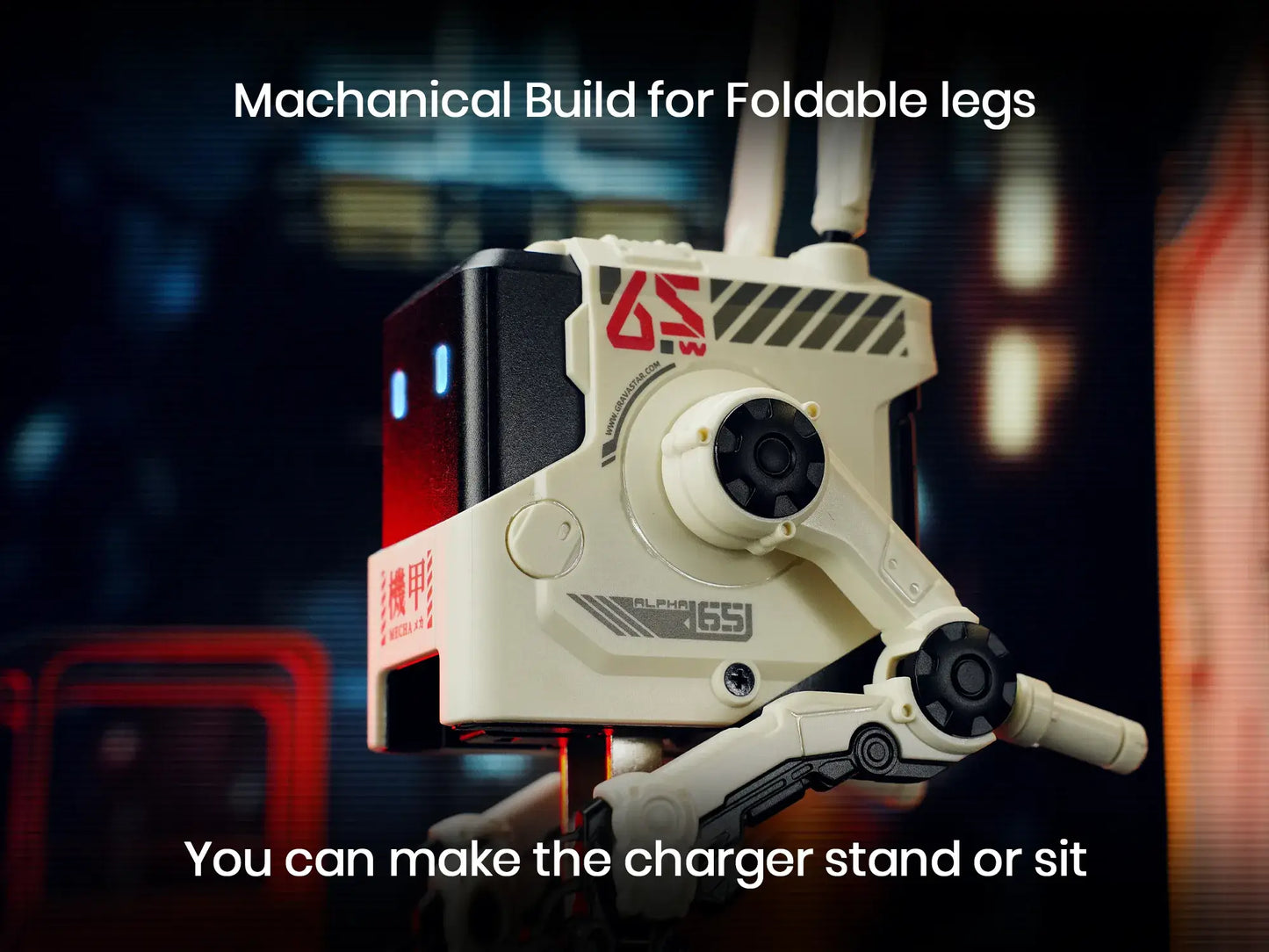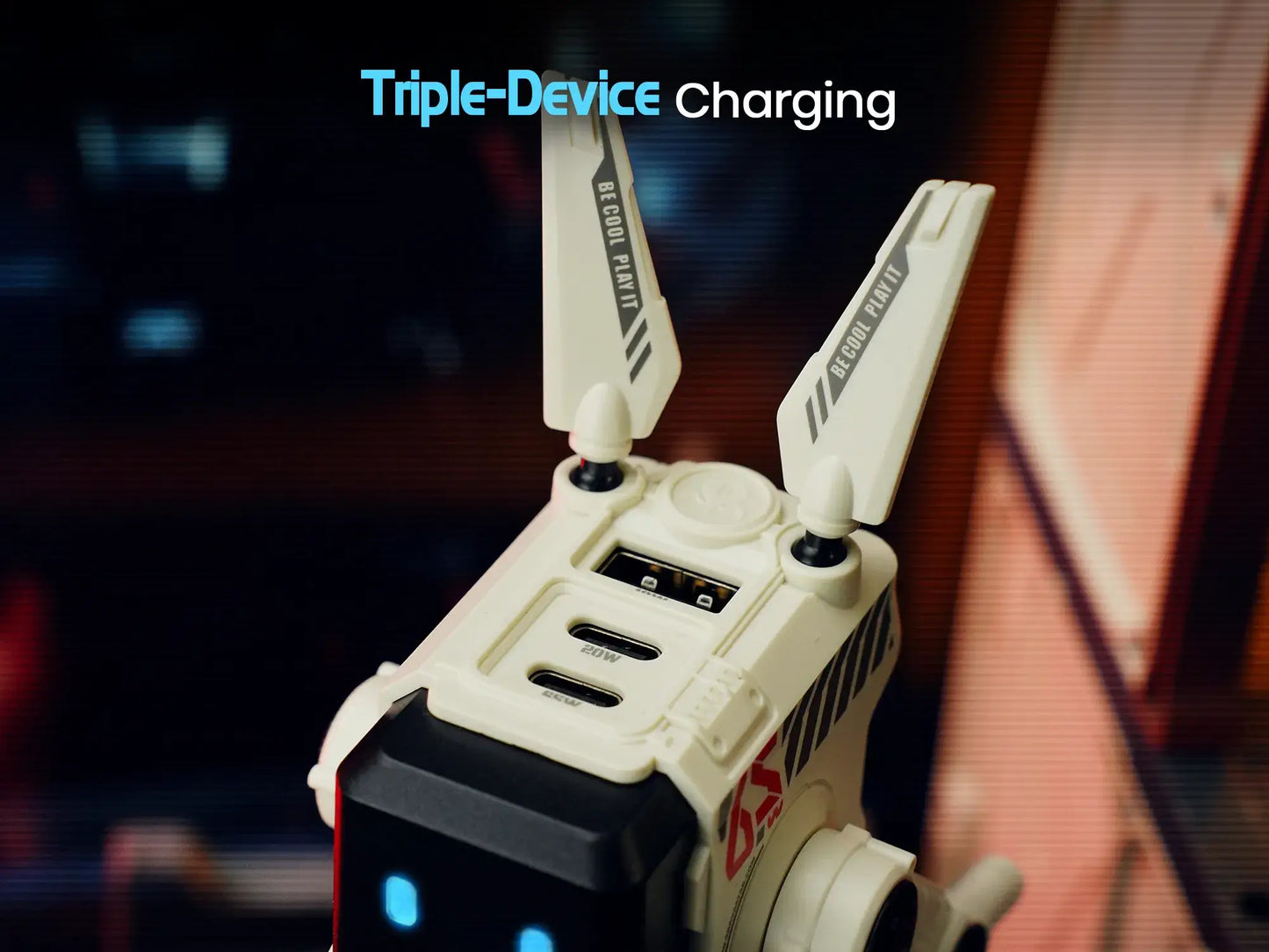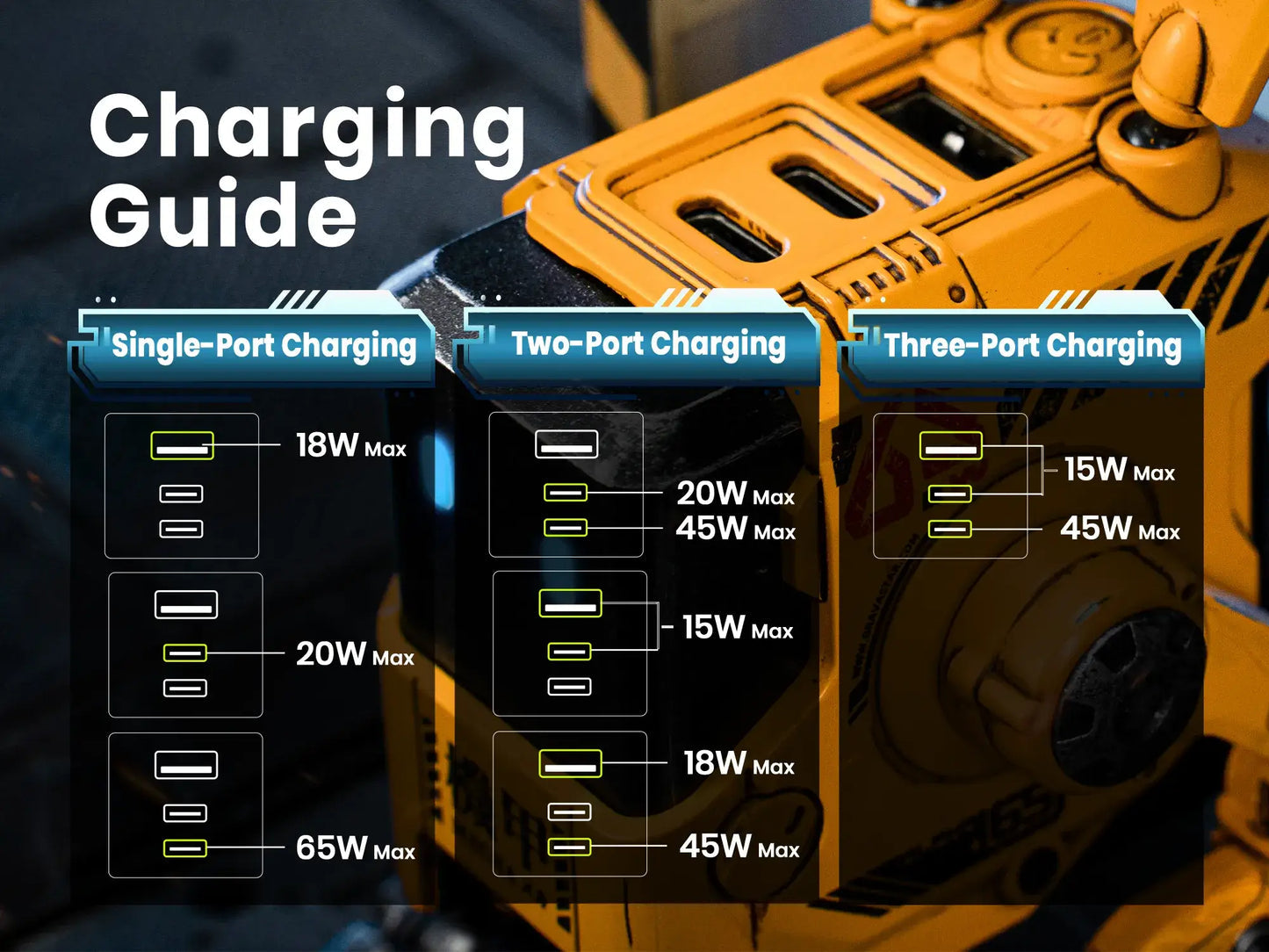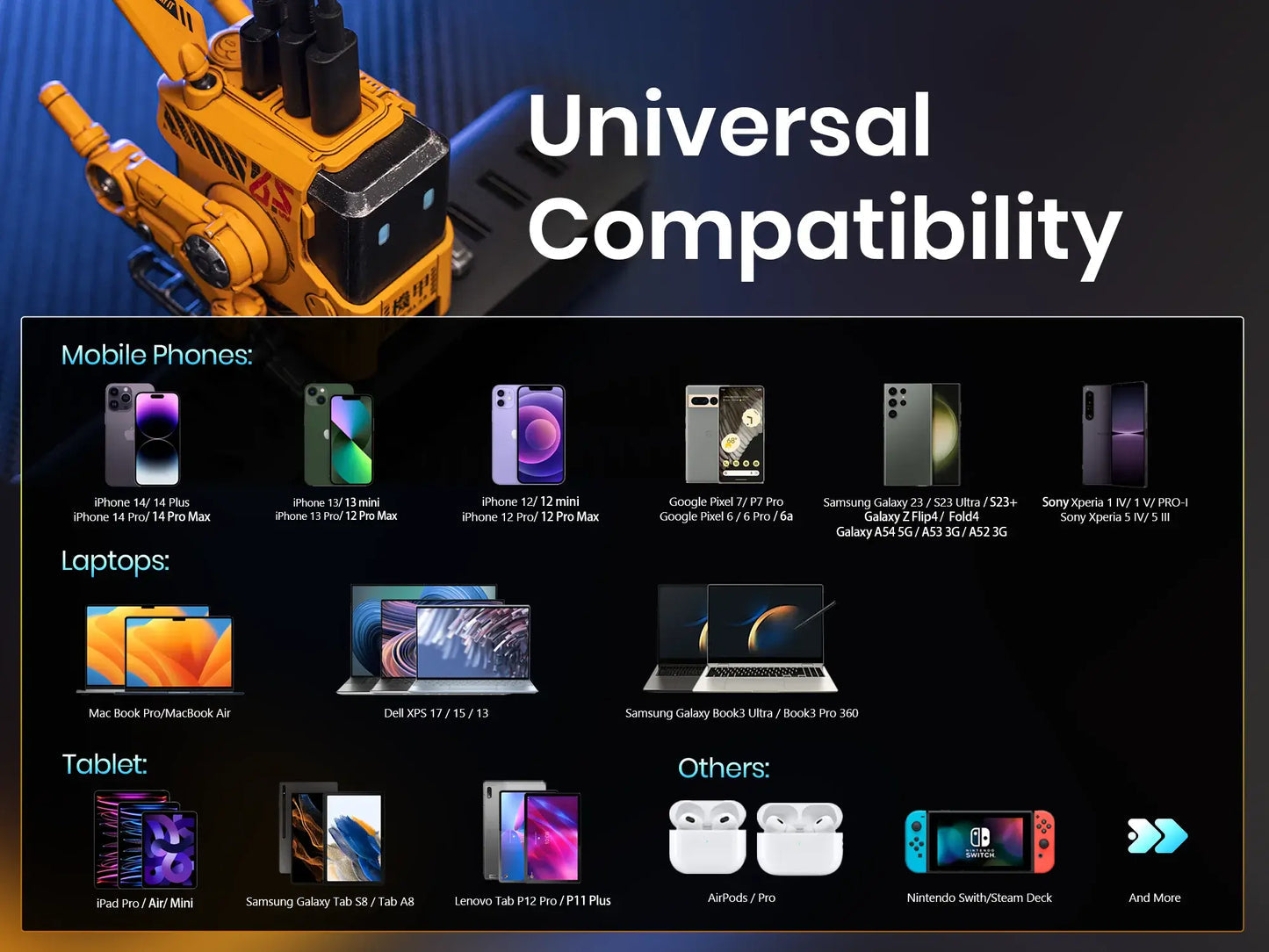 Tech Specs

Output: 65W Max
Number of USB-C Ports: 2 USB-C Ports
Number of USB-A Ports: 1 USB-A Port
Number of Outputs: 3
Input Voltage: 110V - 240V
GaN: Powered by GaN technology
Dimensions: 3.3x2.3x2.4 in / 84.5x60x62 mm
Weight: 4.5oz / 128g

Single Port Charging:
1. USB-C 1 (65W)
2. USB-C 2 (20W)
3. USB-A (18W)

Dual Port Charging:
1. USB-C 1 (45W) + USB-C 2 (20W)
2. USB-C 1 (45W) + USB-A C1 (18W)
3. USB-C 2 + USB-A (15W MAX)

Three Port Charging:
USB-C 1(45W)
USB-C 2 + USB-A: (15W Max)
Share
View full details